Built In, Built-in Cooking, Ovens
PITSOS PH31S81A6 Built-in oven with additional steam function 60 x 60 cm Charcoal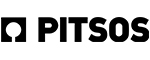 Additional steam function: 

by adding steam, the food becomes crispy on the outside and juicy on the inside.

 

Home Connect: 

Control and operate the intelligent and advanced Pitsos oven via the Home Connect app from your mobile or tablet.

 

HydroPure: 

An easy and smart way to clean your oven.

Electronic clock: to schedule the cooking of your favorite food.
 

Fast pre-heating: 

It reaches the desired cooking temperature faster, thanks to the fast pre-heating.
€1.090,00

Planning
LCD screen
New ergonomic design handle
Touch Control, Slider
Characteristics
HydroPure auxiliary cleaning system
Crystal inner surface of the door
Oven inner surface: Gray enamel
Home Connect: remote access and control
Oven with 14 operating modes: ThermoFlow for simultaneous cooking on 3 levels, Top and Bottom heating, ThermoGrill, Large surface grill, Small surface grill, Pizza ThermoFlow, Bottom heating, Intensive heating, Gentle roasting, Defrosting, Preheating, Heat retention, Hot air/ gentle baking
Operating modes combined with the additional steam function: Hot air, Combination of hot air with grill, Conventional heat
SmoothStop soft door closing
Energy class (EU 65/2014): A on a scale of energy classes from A+++ to D
Useful chamber volume: 71 liters
Rated power: 3600 W
Electric current: 16 A
Voltage: 220-240 V
Frequency: 50; 60 Hz
Sides / Support rails
Telescopic mechanism 1 level, with stop function
Environment and Safety
Electronic clock with cooking start and end programming
Cooling fan
Fast and automatic pre-heating
Child safety lock
Automatic oven safety shutdown ON/OFF activation and deactivation button
Standard equipment
Combination grill, deep pan 10 lt, Universal pan
Detachable water tank 0.2lt
Dimensions
Device dimensions (HxWxD): 595 mm x 594 mm x 548 mm
Built-in dimensions (HxWxD): 585 mm – 595 mm x 560 mm – 568 mm x 550 mm