Built In, Built-in Cooking, Hobs
NEFF T26CS49S0 Autonomous gas hobs 60 cm without frame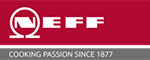 Rated 5.00 out of 5 based on

13

customer ratings
Gas heater with tempered crystal surface and FlameSelect flame-adjustable flame
FlameSelect – Thanks to intelligent gas flow control, the flame can be precisely set to 9 steps. Always the same reliable and accurate power levels for superb cooking convenience.
Extraordinarily easy to clean crystal surface.
You have the option to install the gas hob at the same level of the bench (flush) or slightly raised.
Continuous cast iron grills for maximum stability and comfort in cooking.
Polyhedral switches – A better feel and easier to operate – the new switch in an attractive design.
Technical specifications
Heated crystalline surface
FlameSelect
Built-in multi-turn switches
Electric flame ignition with the turn of the switch
New cast iron flat bars with optimized spacing for more cooking space
4 gas burners
Front left: Burner with a standard output of 1.75 kW
Rear left: Burner with a standard output of 1.75 kW
Rear right: 3 kW high speed burner
Front right: 1 kW combustion engine
Thermoelectric switchgear of the gas supply to the burner
Accepts natural gas (20 mbar)
Includes LPG gas (28-30 / 37 mbar)
Total gas power 7.5 kW
Device Dimensions (WxH): 590 mm x 520 mm
Embedded dimensions (HxWxD): 45 x 560-562 x 480-492 mm