Built In, Dish Washers Built-in, Washing Built-in
Neff S147ECS21E Semi Integrated Dish Washer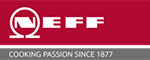 The dishwasher is very practical as it has a drawer to place your cutlery easily and safely, while it also shows you how much time is left until the washing of your dishes is completed.
Flex 1 Baskets: 

The flexible baskets, the three-level Rack Matic and the Flex Cutlery drawer for your cutlery make loading your washing machine a very easy affair.

 Open Dry: 

Automatic opening of the washing machine door, during the drying of the dishes, for even better and drier results.

 Chef 70 °: 

the professional program for cleaning stubborn stains from pans and pans

 Favorite: 

Create your own unique program and save it in a single button. This way you will always have it convenient, easy and fast, at any time.

 Home Connect :

Connect the NEFF dishwasher to your home network and enjoy the unlimited possibilities offered by the services of the smart application, from your mobile phone.
€1.005,00
EU New energy efficiency label:

On a scale of energy classes from A to G
European characteristics sheet
Technical specifications
Consumption & performance
Energy class¹: D

Energy / Water: 85 kWh / 9.5 liters

Capacity: 14 dishes

Program duration: 4:35 (hours: minutes)

Noise levels: 42 dB (A) re 1 pW

Noise levels (silent program): 39 (A) re 1 pW
Programs & special functions
8 programs: Economy 50 ° C, Automatic 45-65 ° C, Intensive Chef 70 ° C, Short 60 ° C, Fast 45 ° C, Glasses 40 ° C, Silent 50 ° C, Prewash

Save a favorite program

Easy Clean – laundry care program

4 special functions: Remote Start – remote start, Extra Dry – additional drying, Power Zone – two-zone washing, Extra Speed ​​(on demand) – reduction of washing time at any time

Silence on demand (via application)

Default start time 1-24 hours
Indications & device operation
Home Connect: remote access and operation

Control with PiezoTouch Control keys

Computer display screen program time

Emotion Light – cabin lighting
Flex basket system 1

Flex Cutlery Drawer – cutlery drawer

Rack Matic – upper basket setting in 3 levels

2 folding dish rack elements in the upper basket

2 shelves for cups in the upper basket

Easy sliding wheels in the lower basket

Stop mechanism in the lower basket to prevent derailment

2 folding dish rack elements in the lower basket

2 shelves for cups in the lower basket
Efficient Silent Drive – brushless technology motor

Aqua Sensor – dirt sensor, Load Sensor – load sensor

Auto3in1 – detergent type identification

Glass Protect – protection of sensitive utensils

Dosage Assist – for complete dissolution of tablets

Open Dry – automatic door opening at the end of the program, Heat Exchanger – energy saving, utensil protection & better drying

Self-cleaning three-level filter

Aqua Stop: NEFF guarantee in case of damage to the household goods, due to water leakage, for the whole life of the device. *
Salt filling funnel included

Water vapor protection plate

Dimensions (HxWxD): 81.5×59.8×57.3 cm