Built-in Cooking, Cooker Hoods
NEFF D49ED52X1 N 50 Sliding hood 90 cm Silver metallic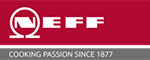 Sliding Hood: Elegant kitchen lovers love it because it is invisible in the upper cupboard.
High absorption rate: Provides a clean atmosphere thanks to the efficient technology of the engine in extraction or recycling mode.
 

Efficient Drive motor: 

quiet and with high energy efficiency for more peace in your kitchen.
Intensive speed adjustment – increases the degree of extraction when the steam during cooking is intense.
LED lighting : clear lighting on the surface you are cooking.
€529,00

Technical specifications
For operation with air extraction or recycling
Electronic control with low-lift keys – electronic screen
3 stages of normal operation and 1 intensive
Automatic extension for 10 minutes
Discreet lighting with 3 LEDs x 1.5W
3 x metal filters, with aluminum frame that is dishwasher safe
2 Efficient Drive motors of BLDC technology, for maximum efficiency and energy savings
Absorption capacity in the extraction mode EN 61591 ø 150mm:
Maximum degree of normal operation 397 m³ / h
Intensive 729 m³ / h
Noise levels min./max. normal operation: 41/53 dB (According to European Directive 65/2014)
Energy class: A, on a scale of energy classes from A +++ to D
Average annual energy consumption: 38.1 kWh / year *
Fluid dynamics: B *
Lighting efficiency: A *
Fat retention efficiency: B *
Lighting intensity: 355 lux
Color Temperature: 3500 K.
Non-return air mechanism
For installation in a cabinet of 60 or 90 cm
Total power: 146 W
Connection cable with plug 1.75 m
Tube diameter Ø 150 mm, 120 mm
Device dimensions (HxWxD): 426 x 898 x 290 mm
Wall dimensions (HxWxD): 385 x 524 x 290 mm