Accessories, Cooking, Home Appliances
Neff Z9417X2 Teppan yaki 380 mm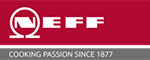 The large-surface Teppanyaki works on multiple cooking zones so you can prepare meat and vegetables simultaneously.
Cook like a pro: sauté at high heat in the front and keep food warm at low heat in the back.
The large surface area can be used in its entirety. It also works on induction hobs.
Material: Multilayer material with aluminium core, surrounded by two stainless steel layers for optimal heat distribution
Outer Dimension: 42 cm x 27 cm (Frying surface: 38 cm x 21 cm)
Induction compatible
Oven proof (up to 220 °C)
Made in Germany