Built In, Built-in Cooking, Cooker Hoods, Hobs
NEFF T58TL6EN2 Built-in flex Induction cooktop with Integrated Ventilation System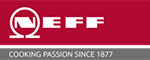 Rated 5.00 out of 5 based on

23

customer ratings
This induction hob with built-in hood combines two appliances into one, offering more space as you cook.
The TwistPadFire® is a removable magnetic switch with lighting system, which gives you precise and comfortable control for all cooking zones. And to make things even easier, only the selectable functions are lit.
Flex Induction – place your utensils wherever you want in the flexible Flex Zone and heat them exactly where they stand.
Power Move – The flexible Flex zone is divided into three heating zones: boiling at the front, simmering in the center and heating at the back.
Home Connect – rediscover your kitchen with our connected home appliances, wherever you are.
Induction – In induction cooking, heat is generated directly in the pan for precise cooking.
This induction hob with integrated ventilation combines two appliances in one for a clear view while cooking
Comfort design with stainless steel frame
2 flexible inductive Flex
Induction cooking zones: 1 x Ø 400 mm x 240 mm, 3.3 kW (maximum power 3.7 kW) or 2 x Ø 190 mm, 2.2 kW (maximum power 3.7 kW) 1 x Ø 400 mm x 240 mm, 3.3 kW (maximum power 3.7 kW) or 2 x Ø 190 mm, 2.2 kW (maximum power 3.7 kW)
TwistPadFire®
Remote access and operation of the device through a smart application on your smartphone or tablet
Power Move
Pot Boost function for all zones
Pan Boost
Restart function
Quick Start function
Frying Sensor with 5 temperature steps: Frying with integrated sensor in all Flex zones
Digital indications of power levels
Fully electronic control with 17 power levels
Automatic utensil recognition Power customizable Child safety lock Automatic safety deactivation Wipe protection function
Heat retention function (L)
Timer with deactivation function for all zones Alarm function with audible alarm Digital timer
Dual heat balance indicator (H / h) for each zone
Possibility of energy consumption indication
Main switch with Stop function
Total power: 7400 W