Built In, Built-in Cooking, Hobs
NEFF T56SBF1L0 No. 50 Induction hobs 60 cm Black, built-in with frame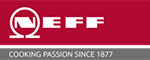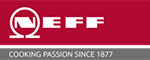 Touch operation: 

control your hotplates with a simple touch and a timer.

 

Power Boost: 

an extra heat boost when you need fast results.

The oval zone is automatically activated when you use your hull

NEFF induction hobs generate heat directly at the base of the cookware, which disappears as soon as you switch them off. For cooking with absolute precision.
Compare
Technical characteristics
New stainless steel modern perimeter frame
Neff Touch Control: power control through built-in + / – touch keys.
17 power tiers: precise adjustment of heat to 17 levels (9 main levels and 8 intermediate levels).
Oval cooking zone: use several utensils in the zone extendable cooking.
Front left : 180 mm, 1.8 kW (maximum power 3.1 KW)
Rear left : 180 mm, 280 mm, 1.8 kW (maximum power 3.1 KW)
Right rear: 145 mm , 1.4 kW (maximum power 2.2 kW)
Front right: 210 mm, 2.2 kW (maximum power 3.7 kW)
General characteristics
Pot Boost function for all zones : you can boil water faster thanks to the function with 50% more energy than the higher medium level.
Quick Start mode: when turning on, the hob selects automatically the appropriate cooking zone for cookware (which have been placed while in an off condition operating mode).
Restart function: if the hob is accidentally turned off, it can restore all of its previous settings if the activate again in the next 4 seconds.
Double heat balance indicator (H/h) for each zone: shows which cooking zones are still hot or hot.
Central switch with Stop function: disables all one-touch cooking zones.
Automatic safety deactivation: the hob stops it heats up after some time that it does not it is used for security reasons (the length of time determined by you).
Child safety lock
1.1 m, connection cable is included
Total power: 7.4 kW
Dimensions
Device dimensions (Lxwxb mm): 55 x 583 x 513
Wall dimensions (Lxwxb mm): 55 x 560 x (490 – 500)