Built In, Built-in Cooking, Hobs
NEFF T36BD60N1 N 70 Induction hobs 60 cm Black, wall mounted with frame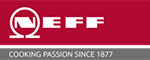 Autonomous induction hob with TouchControl.
 

Touch Control – The comfortable way to operate your home. One touch is enough. A timer is included.

Power Boost – ideal power function for more flexible and fast heating of your hearth.

The oval belt activates automatically when you use your hull

Induction – In induction cooking, heat is generated directly in the pan for precise cooking.
Technical specifications
New stainless steel modern perimeter frame

4 induction cooking zones

1 induction oval cooking zone

1 x Ø 145 mm, 1.4 kW (maximum Power 2.2 KW)




1 x Ø 280 mm, 2 kW (maximum Power 3.1 kW, 3.7 kW)




1 x Ø 145 mm, 1.4 kW (maximum Power 2.2 kW)




1 x Ø 210 mm, 2.2 kW (maximum Power 3.7 kW)

Pot Boost function for all zones

Neff Multi Touch

7-part screen with digital displays

Fully electronic control with 17 power levels

Quick Start function

Restart function

Automatic utensil recognition




Possibility of power personalization




Child safety lock




Automatic safety deactivation




Wipe protection function

Off timer for each cooking zone




Alarm function with audible alarm

Dual heat balance indicator (H / h) for each zone

Main switch with Stop function

Total power: 4600 W

Device dimensions (WxD): 583 mm x 513 mm

Wall mounting dimensions (HxWxD): 55×560-560×490-500 mm