Built In, Built-in Cooking, Hobs
NEFF T27TA69N0 N 90 Gas Hobs 75 cm Glass ceramic, Black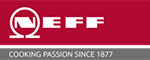 Glass ceramic surface that is very easy to clean.
 

FlameSelect®: 

get the ultimate flame control.
 7-segment digital display, showing the heat remaining in each zone of your hob after you have switched it off. For absolute control and safety, every moment.
Double burner Wok. It is ideal for when you want to cook large quantities of food at high temperatures up to 4.2 kW (depending on the type of gas).
 The new, elegantly designed polyhedral switches of the NEFF hob offer a better sense of touch, as well as greater safety and ease of use.
Specifications
Bevelled oval controls positioned at the front – Stainless steel frame
5 gas burners – one is WOK (dual flame system for high temperatures at up to 4.2 kW)
FlameSelect – Thanks to the clever control of gas flow, the flame can be precisely adjusted in 9 steps
7-segment display with residual heat indicator
Extremely easy-to-clean ceramic glass surface
Continuous cast-iron pan supports for maximum stability and cooking convenience
LED display for each zone
Design co-ordinated control dials
Ignition via control dials
Black cast iron pan supports with protective rubber feet
Dimensions: W x D x H = 750 x 546 x 45 mm