Built In, Built-in Cooking, Hobs
NEFF T27TA69N0 Autonomous Ceramic gas base. 75 cm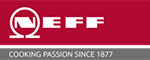 Rated 5.00 out of 5 based on

13

customer ratings
The gas heater with the exceptionally heat-resistant crystal surface and flame-selectively flame-adjustable flame
FlameSelect – Thanks to intelligent gas flow control, the flame can be precisely set to 9 steps. Always the same reliable and accurate power levels for superb cooking convenience.
Heat balance indication – Digital indication of the power levels selected for a particular cooking zone. After turning off, the display informs you of the remaining heat of the zone.
Double flame system for high temperatures up to 4.2 kW when cooking large quantities.
Extraordinarily easy to clean crystal surface.
Continuous cast iron grills for maximum stability and comfort in cooking.
Technical specifications
Comfort design with stainless steel frame
FlameSelect
Digital indications
Built-in multi-turn switches
Electric flame ignition with the turn of the switch
Stands for cast iron utensils
5 gas burners
Front left: Burner with a standard output of 1.9 kW
Rear left: Burner with a standard output of 1.9 kW
Center: Double burner WOK 4.2 kW
Right rear: High-speed baler 2,8 kW
Front right: Burner 1.1 kW
Thermoelectric switchgear of the gas supply to the burner
Heat balance double count (H / h) for each zone
Accepts natural gas (20 mbar)
Includes LPG gas (28-30 / 37 mbar)
A supplementary WOK grid is included.
Total gas power 11.9 kW
Device Dimensions (WxH): 750 mm x 546 mm
Embedded dimensions (HxWxD): 45 x 560-562 x 490-502 mm