Built In, Built-in Cooking, Hobs
NEFF T26DS49N0 No. 70 Gas Hobs 60 cm Stainless steel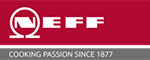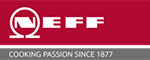 Stainless steel surface, designed with elegance and style.
 

FlameSelect®: 

get the ultimate flame control.
 The new, elegantly designed polyhedral switches of the NEFF hob offer a better sense of touch, as well as greater safety and ease of use.
Special cast iron bases for your utensils, for absolute stability, safety and comfort in cooking.
Suitable for biomethane use: use biomethane as a renewable energy source for your stoves.
Compare
Specifications
4 Gas Burners – 1 high speed, 2 standard and 1 economy burners
FlameSelect – Thanks to the clever control of gas flow, the flame can be precisely adjusted in 9 gradations
Continuous cast-iron pan supports for maximum stability and cooking convenience.
Design co-ordinated control dials – easy to operate in an attractive design
Step valve 9 steps
Design co-ordinated control dials
Ignition via control dials
Black cast iron pan supports with protective rubber feet
Flame failure safety device
Factory set for connection to mains gas
Dimensions: W x D = 582 x 520 mm
4 Gas Burners – 1 high speed, 2 standard and 1 economy burners
FlameSelect – Thanks to the clever control of gas flow, the flame can be precisely adjusted in 9 gradations
Continuous cast-iron pan supports for maximum stability and cooking convenience.
Design co-ordinated control dials – easy to operate in an attractive design
Step valve 9 steps
Design co-ordinated control dials
Ignition via control dials
Black cast iron pan supports with protective rubber feet
Flame failure safety device
Factory set for connection to mains gas
Dimensions: W x D = 582 x 520 mm