Built In, Built-in Cooking, Hobs
NEFF T26DS49N0 Autonomous Gas Heater 60 cm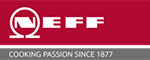 Rated 5.00 out of 5 based on

13

customer ratings
The gas burner with stainless steel surface and the gradually adjustable FlameSelect.
FlameSelect – Thanks to intelligent gas flow control, the flame can be precisely set to 9 steps. Always the same reliable and accurate power levels for superb cooking convenience.
Continuous cast iron grills for maximum stability and comfort in cooking.
Polyhedral switches – A better feel and easier to operate – the new switch in an attractive design.
Technical specifications
Stainless steel surface
FlameSelect
Built-in multi-turn switches
Electric flame ignition with the turn of the switch
Stands for cast iron utensils
4 gas burners
Front left: Standard output burner up to 1.75 kW (depending on gas type)
Rear left: Burner with a normal output up to 1.75 kW (depending on the gas type)
Rear right: High-speed burner up to 3 kW (depending on gas type)
Front right: Burner up to 1 kW (depending on gas type)
Thermoelectric switchgear of the gas supply to the burner
Accepts natural gas (20 mbar)
Includes LPG gas (28-30 / 37 mbar)
Total gas power up to 7.5 kW (depending on gas type)
Device dimensions (WxD): 582 mm x 520 mm
Embedded dimensions (HxWxD): 45 x 560-562 x 480-492 mm