Built In, Dish Washers Built-in, Washing Built-in
Neff S147ZCS35E Semi Integrated Dish Washer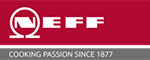 Load Capacity: 14 place settings
8 programs / 6 temperatures
4 Additional special functions – Remote Start, Extra Shine, Power Zone, Extra Speed ??(on demand)
Zeolith® drying – perfect drying, with energy saving
Home Connect
Black panel control
€995,00
EU New energy efficiency label:

On a scale of energy classes from A to G
European characteristics sheet
The dishwasher has a flexible drawer to easily and neatly place your cutlery, while also offering you the ability to save your favorite settings in a single button.
? Flex 2 Baskets: The flexible baskets, the three-level Rack Matic and the Flex Cutlery drawer make loading your washing machine truly easy
? Excellent drying with zeolite, a natural mineral
? Chef 70 °: the professional program for cleaning stubborn stains from pans and pans
? Favorite: Create your own unique program and save it in a single button. This way you will always have it convenient, easy and fast, at any time
? Home Connect : Connect the NEFF dishwasher to your home network and enjoy the unlimited possibilities offered by the services of the smart application, from your mobile phone
See more below.
Semi Integrated Dish Washer 60cm wide, Capacity: 14 Place Settings, Energy Class: C
Semi integrated Dish Washer, 60cm wide
Load Capacity: 14 place settings
8 programs: Economy 50 ° C, Automatic 45-65 ° C, Intensive Chef 70 ° C, Short 60 ° C, Fast 45 ° C, Glasses 40 ° C, Silent 50 ° C, Prewash
Save a favorite program
Easy Clean – laundry care program
4 special functions: Remote Start – remote start, Extra Shine – extra shine, Power Zone – two-zone washing, Extra Speed ??(on demand) – reduction of washing time at any time
Silence on demand (via application)
Default start time 1-24 hours
Home Connect: remote access and operation
Control with PiezoTouch Control keys
Computer display screen program time
Emotion Light – cabin lighting
Flex 2 basket system, with flexible elements in burgundy color
Flex Cutlery Drawer – cutlery drawer
Rack Matic – upper basket setting in 3 levels
Stop mechanism in the lower basket to prevent derailment
Zeolith® – perfect drying, with energy saving
Efficient Silent Drive – brushless technology motor
Aqua Sensor – dirt sensor, Load Sensor – load sensor
Auto3in1 – detergent type identification
Glass Protect – protection of sensitive utensils
Dosage Assist – for complete dissolution of tablets
Heat exchanger – energy saving, protection of utensils & better drying
Self-cleaning three-level filter
Aqua Stop: NEFF guarantee in case of damage to the household goods, due to water leakage, for the whole life of the device
For children: Lock programs
Dimensions (HxWxD): 815 x 598 x 573 mm