Built In, Built-in Cooking, Hobs
NEFF N23TA29N0 Domino gas hobs 30 cm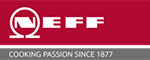 Rated 5.00 out of 5 based on

23

customer ratings
The gas hob with the extremely heat-resistant crystal surface and the gradually adjustable FlameSelect® flame.
Glass ceramic surface that is very easy to clean.
FlameSelect®: Thanks to this smart technology, which completely controls the throttle flow, you can precisely adjust the fire intensity in the NEFF throttle, choosing between 9 intensity levels.
7-part digital display, with a display of the heat that remains in each zone of your hearth, after you have turned it off. For absolute control and safety, at all times.
The new, elegantly designed NEFF hearth switches offer a better sense of touch, as well as greater safety and ease of use.
Special cast iron bases for your utensils, for absolute stability, safety and comfort in cooking.
Built-in  2 Gas Hob Domino On Ceramic Surface, 1 High Speed WOK and 1 Standard Burner
Built-in Gas Hob – Combiset – Can be installed with other Neff Domino Appliances
2 gas burners (1 High speed WOK and 1 standard burner)
FlameSelect with 9 steps
LED display for each zone
7-segment display with residual heat indicator
Design co-ordinated control dials
Ignition via control dials
Black cast iron pan supports with protective rubber feet
Flame failure safety device
2 stage residual heat indicator
Factory set for connection to mains gas
Dimensions: W x D x H = 306 x 546 x 45 mm