Built In, Built-in Cooking, Warming Drawers
NEFF N17XH10G0 No. 70 Built-in Vacuum drawer 60 x 14 cm Graphite Grey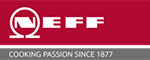 Vacuum sealing – the Vacuum drawer seals your favorite foods in a 99% vacuum, for even better taste and a longer food life.
 Sous-Vide preparation – the drawer vacuum seals your food before steaming it using the Sous-Vide technique.
External vacuum sealing – the handy helper for flexible sealing of larger jars and plastic containers.
Push & Pull: open and close your drawer with a gentle touch.
Specifications
3 vacuum steps in the chamber Max.99%
3 steps for creating a vacuum outside the chamber Max.90%
Automatic connection recognition for out-of-chamber vacuum
Drying program for the vacuum pump
Operation with touch keys
Push and Pull front pressure opening system
Total power: 0.32 KW
Device dimensions (HxWxD): 140 mm x 595 mm x 542 mm
Wall dimensions (HxWxD): 141 mm x 560 mm – 568 mm x 550 mm
"Please consult the wall dimensions provided in the installation plan"