Built In, Built-in Cooking, Steam Ovens
NEFF N 90 Built-in Steam Oven C17FS42N0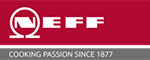 Rated 5.00 out of 5 based on

13

customer ratings
Compact Built-In Oven with FullSteam – Combines all cooking modes as well as steam cooking in a device occupying very little space.
The new FullSteam® oven combines a CircoTherm® and a steam cooker into a device.
ShiftControl – Quick navigation on the menus and easy to use with the rich TFT screen.
EasyClean® – this special cleaning aid provides simple and energy-saving cleaning of the oven interior. An ecological option for quick cleaning of the oven.
Modern LED illumination for bright, uniform illumination
Door with soft opening and closing.
Technical specifications
Type of oven / Heating systems:
Built-in oven with 12 modes:
CircoTherm, Eco Heat, Top and bottom heating, ECO top and bottom heating, Thermogrill, Large surface grill, Small surface grill, Pizza pitch, Bread pitch, Lower heating, Mild baking,
Additional steam modes: Steam cooking (100%), Reheat, Dough inflation rate, Defrosting
Temperature range 40 ° C – 250 ° C
Design:
Illuminated ShiftControl controller
Inner furnace surface: Enamel anthracite
Cleaning:
Self-cleaning surface ecoClean: Back
EasyClean® cleaning system
Interior door surface made entirely of crystal
Comfort:
4.1 "TFT color touchscreen with graphics
Suggested temperature
Current temperature display
Visual temperature control
Automatic programs
Additional functions:
Degreasing function
Automatic boiling point detection
Drying mode
Soft SoftClose door closure, soft SoftOpen door opening
Auxiliary systems: Settings suggestions, Programs
38 automatic programs
Electronic EasyClock Watch
Automatic rapid heating
LED illumination, on / off switch
Removable 1 liter water tank
Water tank level indicator
Cooling fan
Stainless steel fan impeller
Information key "i"
Slide® folding door handle
Side / Support rails:
1 x universal baking dish, 1 x Steam tank, holes, size S, 1 x Steam container, holes, XL size, 1 x Steam tank, no holes, size S, 1 x grill
Environment and Safety:
Child safety button
Automatically deactivate the oven safety
Residual heat
indicator ON / OFF switch ON / OFF button
Specifications:
Connection cable length: 150 cm
3.3 KW
Device Dimensions (HxWxD): 455 mm x 596 mm x 548 mm
Inside dimensions (HxWxD): 450 mm – 455 mm x 560 mm – 568 mm x 550 mm
"Please consult the fitting dimensions provided in the installation plan"
Energy class (EU 65/2014): A + on a scale of energy classes from A +++ to D
Useful chamber volume: 47 l