Cooling, Fridge Freezers, Home Appliances
NEFF N 70 Full No Frost, Free Inox Antifinger Freezer KG7493I40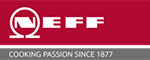 Rated 5.00 out of 5 based on

23

customer ratings
This freezer freezer keeps food fresh for up to twice as long. Defrosting is automatically done thanks to NoFrost technology.
FreshSafe: With high humidity and temperature + 4 ° C, nutrients are retained.
FreshSafe 2 ◄0 ° C►: keeps meat, fish, fruits and vegetables twice as much
NoFrost technology: Never manually defrosting. The air circulates to keep it dry, so no ice is formed.
Electronic temperature control: Separate maintenance and freezing temperature control
VarioShelf: The glass shelf can be divided and pushed one side under the other, thus offering flexibility in the interior configuration.
€1.480,00

Technical specifications
Specifications
Energy class: A +++ on a scale of energy classes from A +++ to D
Annual energy consumption: 202 kWh
SN-T (10˚-43˚C)
Total Gross Capacity: 466lt
Net maintenance capacity: 330lt
Net freezer capacity: 105lt
General characteristics
Electronic control panel (7segment LED)
Multiairflow for uniform distribution of cooling
ActiveFilter filter AirFresh filter to reduce odors from food
Separate refrigeration and refrigeration compartment temperature adjustment
Visual and audible alert signal
Door direction change. For more information, see 18182
Automatic defrost maintenance
4-star freezer
In maintenance
Super on maintenance with automatic shutdown
4 safety glass shelves, 4 of which are adjustable in height
1 FreshSafe 2 drawer – high moisture maintains nutrients for up to twice as long.
2 drawers FreshSafe 1 ◄ 0 ° C► on rails with moisture control – meat and fish are kept fresh up to twice as long due to the lower temperature.
Bottlecase
3 egg cubes
4 door shelves
Internal LED lighting
In the freezer
SuperFreezing in the freezer with automatic shutdown
3 storage drawers
Vario Zone – removable safety glass shelves for extra space!
Two ice buckets
Freezing capacity in 24 hours: 15kg
Autonomy in case of power failure: 20 hours
Device Dimensions
Device dimensions HxWxD: 203x70x67 cm