Built In, Built-in Cooking, Cooker Hoods
NEFF N 50 Built-in suction hood, 60 cm. D46ED52X0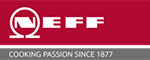 Rated 5.00 out of 5 based on

18

customer ratings
Sliding Inlet: Lovers of stylish kitchens love it because it's invisible inside the upper closet.
LED illumination: clear cooking light thanks to LED energy-saving lights.
Intensive step: Increases the extraction rate when cooking with intense water vapor
High Absorption Rate: Ensures a clean atmosphere thanks to efficient engine technology in extraction or recycling mode.
Technical specifications
Specifications
For operation with air extraction or recycling
Ability to absorb in the exhaust operation according to EN 61591 ø 150 mm:
Maximum operating mode standard 400 m³ / h
Intensive 740 m³ / h
Noise levels min./max. normal operation: 43/55 dB (according to European Directive 65/2014)
Energy class: A, on a scale of energy classes from A ++ to E *
Average annual energy consumption: 35.3 kWh / year *
Fluid Dynamics Performance: A *
Lighting performance: A *
Fat retention yield: B *
Lighting intensity: 683 lux
Color Temperature: 3500 K.
Distinctive illumination with 2 LEDs of 3W
2 x metal filters with aluminum frame washed in the dishwasher
Electronic control, low-lift keys and electronic display
3 increments +1 intensive
Saturation indicator for metal filters
Automatic extension for 10 minutes
General characteristics
2 BLDC EfficientDrive engine for maximum performance and energy savings
Total power: 146 W
Diameter of pipe Ø 150 mm, 120 mm
Non-return air mechanism
Connection cable with 1.75 m plug
Telescopic mechanism without metope
Dimensions
Dimensions (HxWxD): 426 x 598 x 290 mm
Embedded dimensions (HxWxD): 385 x 524 x 290 mm