Built In, Built-in Cooling, Built-in Fridge Freezers, Combi, Cooling, Fridge Freezers, Home Appliances
NEFF KI8865DE0 N 90 Built-in fridge-freezer 177.2 x 55.8 cm soft close flat hinge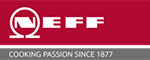 Fresh Safe 3 Plus 0°C: 

drawers with temperature control for ideal storage of all fresh food.

 

Home Connect: 

add the smart fridge to your home network and take control of your kitchen.

 

No Frost: 

defrosting the refrigerator is a thing of the past.

 

Bottle Flex Shelf: 

shelf and stand for your bottles.



 

Vario Zone – Adjust your drawers according to your needs and create the right space for your frozen food.
€2.020,00
EU New energy efficiency label:
On a scale of energy classes from A to G
European characteristics sheet
General Characteristics
NoFrost Freezer
Home Connect: remote access and control of the device via a smart application on the smartphone or tablet
Electronic control panel (7 segment LED)
Holiday Mode
Separate temperature control of the preservation and freezer compartment
Constant temperature with sensor control
Audible warning signal, with function memory
Right door direction, possibility to change direction
Automatic maintenance defrost
In Maintenance
Super Cooling with automatic shut-off
3 safety glass shelves (2 of which are height-adjustable)
1 FreshSafe 3 ◄0°C► drawer with temperature and humidity control: food stays fresh for up to three times longer Bottle holder
2
shelves in door
Interior LED lighting
In the Freezer
Super Freezing with automatic shut-off
3 transparent storage drawers
Vario Zone: removable safety glass shelves for extra space
Freezing capacity in 24 hours: 7 kg
Autonomy in case of power failure: 8 hours