Built In, Built-in Cooling, Built-in Fridge Freezers, Combi, Cooling, Fridge Freezers, Home Appliances
NEFF KI2823FF0 No. 70 Fully Integrated single-door Refrigerator with internal freezer 177.5 x 56 cm flat hinge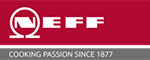 Fresh Safe 2 <0°C>: 

ideal storage for fruit and vegetables, fish and meat.
 

Fresh Safe: 

fridge drawer for flexible storage of your fruit and vegetables.
 

Easy Access shelf: 

slides easily for better access to the contents of the refrigerator.
 

Vario Shelf: 

The glass shelf can be split and one part can be pushed under the other, thus offering flexibility in the interior configuration.
 Vario Zone – Adjust your drawers according to your needs and create the right space for your frozen food.
€1.449,00
EU New energy efficiency label:

On a scale of energy classes from A to G
European characteristics sheet
Specifications
Total Gross Capacity: 288ltrs
Net maintenance capacity: 252lt
Net freezer capacity: 34lt
Low Frost for less ice formation and less frequent thawing
Electronic control panel (7segment LED)
Separate storage and freezer compartment temperature setting
Possibility to change door direction.
Audible alarm, with memory function
Stable temperature with sensor control.
Automatic maintenance defrost
Super Cooling in maintenance with automatic shutdown
Vario Shelf: shelf useful for bulky items.
1 FreshSafe 2 drawer on telescopic rails – high humidity retains nutrients for up to twice as long
Vario Zone – removable shelves made of safety glass for extra space
Freezing capacity in 24 hours: 3kg
Autonomy in case of power failure: 22 hours
Annual energy Consumption: 222kWh
Climate zone: SN-ST (10°C – 38°C)
Noise level: 36 (dB(A) re 1 pW)
Energy Rating: F
Dimensions: H x W x D: 177.2×55.8×54.5 cm