Built In, Built-in Cooling, Fridge
NEFF KI1413D30 N 70 Built-in single-door refrigerator 122.5 x 56 cm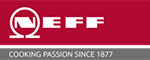 This built-in refrigerator keeps fruit and food fresh for up to twice as long.
 

FreshSafe 2: 

With high humidity and temperature + 4 ° C, nutrients are retained.
 

Easy Access Shelf: 

Offers better organization, better views and better access to food.
 

Vario Shelf: 

The glass shelf can be split and pushed one section below the other, thus offering flexibility in the internal configuration.
 LED lighting Pleasant, bright lighting throughout the refrigerator, with long-lasting LEDs.
 

Soft Close: 

Once it reaches a 20 ° angle, the door closes gently on its own.
€599,00
Specifications
Energy class: A ++ on a scale of energy classes from A +++ to D
Annual energy consumption: 105 kWh
Climate class SN-T (10˚-43˚C)
Total gross capacity: 215lt
Net maintenance capacity: 211lt
General Characteristics
Electronic control panel (7 segment LED)
Stable temperature with sensor control.
Door right, Possibility to change door direction
Audible alarm signal, with memory function
Automatic maintenance defrost
In maintenance
Super Cooling in maintenance with automatic shutdown
Vario Shelf: shelf useful for bulky items.
Easy Access Shelf: easy access to food and perfect field of vision.
6 shelves made of safety glass (5 of which are height adjustable)
1 drawer FreshSafe 2 – high humidity retains nutrients for up to twice as long
2 egg cases
4 door shelves
Fixed position for bottles
LED interior lighting
Device Dimensions
Device dimensions HxWxD: 122.1×55.8×54.5 cm
Wall dimensions YxWxD: 122.5x56x55 cm