Built In, Built-in Cooling, Built-in Fridge Freezers
Neff GI7813CF0 Fully Integrated Freezer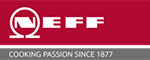 Total Net Capacity: 211ltrs
Full No Frost
Reversible door
7 transparent freezer drawers
Color: White
?++
€1.069,00
EU New energy efficiency label:

On a scale of energy classes from A to G
European characteristics sheet
Neff GI7813CF0
The built-in freezer with automatic defrost, thanks to Full No Frost technology.
? Full No Frost technology: Never manually thaw again. The air circulates to keep it dry, so no ice forms
? Vario Zone – Adjust your drawers according to your needs and create the right space for your frozen food.
? Soft Close: Once it reaches a 20 ° angle, the door closes gently on its own.
? A ++: Device with very low power consumption.
Fully integrated Freezer 64cm Wide, NetCapacity: 211ltrs, Energy Class: A++
Fully integrated Single door Freezer
Gross Capacity: 235ltrs
Net Capacity: 211ltrs
Full No Frost
Electronic control panel (7segment LED)
Possibility to change door direction
Audible alarm signal
Super Freezing with automatic deactivation
2 transparent storage drawers
5 transparent freezer drawers
Ice case
Freezes: 20kg in 24hours
Noise level: 36 (dB(A) re 1 pW)
Yearly electricity Consumption: 243kWh
Climate zone: SN-T (10°C – 43°C)
22 hours Freezer temperature maintenance in case of power cut
Energy efficiency rating: A++
Dimensions: H x W x D: 177.2 x 55.8 x 54.5 cm
Brand
NEFF
Product
Fully Integrated Freezer
Model
GI7813CF0
Fit Type
Fully Integrated
Total Net Capacity
235ltrs
Freezer Net Capacity
211ltrs
Energy Class
A++
Yearly Consumption
243kWh
Noise Level
36dB
Climate Zone
SN-T (10°C – 43°C)
Lighting
LED
Height
177.2cm
Width
55.8cm
Depth
54.5cm
Other Features
"SoftClose" & "SoftOpen" Door System, No Frost
Warranty
2 years