Accessories, Cooking, Home Appliances
Neff Flat duct 1000 mm Black Z861SM2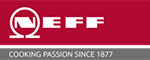 Straight tube 1000mm
Z861SM2 Accessory Cooktops
This accessory complies with the Needle Flame Test (according to IEC 60695-5-11), the V2 flammability class (according to UL94) and the B1 building material class (DIN 4102-1)
Straight flat-duct tube element (1,000mm. male)
Aerodynamically optimized design to minimise pressure loss and maximise air flow rate. Easy-to-cut & easy-to-connect via the female connector sleeve element.