Built In, Built-in Cooking, Cooker Hoods
NEFF D95BHM4N0 N 50 Fireplace hood 90 cm Stainless steel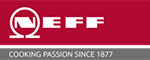 Flat design in a modern shape – the hood with a classic 'Box' design.
Touch Control: 

thanks to the integrated flat surface of the control panel, adjustments can be easily made with a single finger

Intensive speed adjustment – increases the degree of extraction when the steam during cooking is intense.

LED 

lighting : 

clear lighting on the surface you are cooking.
€730,00
EU New energy efficiency label:

On a scale of energy classes from A to G
European characteristics sheet
Technical specifications
For operation with air extraction or recycling

Electronic control with Touch Control – electronic screen

3 stages of normal operation and 1 intensive

3 x metal filters, with aluminum frame that is dishwasher safe

Energy efficient Capacity Motor

Discreet lighting with 2 LED Spot of 1.5 W

Absorption capacity in the extraction mode according to EN 61591 ø 150 mm:




Maximum degree of normal operation 453 m³ / h, Intensive 739 m³ / h

Noise levels min./max. normal operation: 52/65 dB (According to European Directive 65/2014)

Energy class: B, on a scale of energy classes from A +++ to D

Average annual energy consumption: 62.5 kWh / year *

Fluid dynamics: B *

Lighting efficiency: A *

Fat retention efficiency: B *

Color Temperature: 3500 K.

Lighting intensity: 214 lux

Non-return air mechanism

Total power: 255 W

Connection cable with 1.3 m plug

Tube diameter Ø 150 mm, 120 mm

Export mode (HxWxD): 635-965 x 900 x 500 mm

Recycling function (HxWxD): 635-1075 x 900 x 500 mm