Built In, Built-in Cooking, Cooker Hoods
NEFF D94DAP6N0 Built In DownDraft CookerHood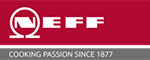 Rated 5.00 out of 5 based on

23

customer ratings
The silent sink hood expands every time steam and odors come out of your kitchen.
Sunken – Appears only when you need it while the rest of the time it hides behind your hearths.

Excellent space saving – Fits perfectly behind the hobs leaving free all the space for the drawer under them.

Flexible installation – Installation options take full advantage of your closet space.

Quiet design – Extremely quiet thanks to its special design for reduced noise.

Built-in lighting – The immersive hood with built-in LED lighting for pleasant interior lighting.
Built In DownDraft CookerHood, 90cm width, in inox color, features three absorption speeds, two intensive speeds at 690m3/h and Rimm suction system.  
For operation with air extraction or recycling

Electronic control with Glass Touch

3 stages of normal operation and 2 intensive

Automatic extension for 10 minutes

Discreet lighting with 1 7W LED rod

Rimm absorption system, with 2 filters that are dishwasher safe

Capacity Motor

Absorption capacity in the extraction mode according to EN 61591 ø 150 mm: Maximum degree of normal operation 428 m³ / h, Intensive 690 m³ / h

Noise levels min./max. normal operation: 45/59 dB (According to European Directive 65/2014)

Energy class: B, on a scale of energy classes from A +++ to D

Average annual energy consumption: 63.3 kWh / year *

Fluid dynamics: A *

Lighting efficiency: A *

Fat retention efficiency: D *

Lighting intensity: 203 lux

Color Temperature: 3500 K.

Total power: 267 W

Connection cable with plug 1.5 m

Tube diameter Ø 150 mm, 150 mm

Export mode (HxWxD): 735-1035 x 918 x 268 mm

Recycle mode (HxWxD): 735-1035 x 918 x 268 mm