Built In, Built-in Cooking, Cooker Hoods
NEFF D65XAM2S0 No. 70 Built-in hood Box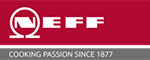 Reduced noise – Our modern and renewed motor ensures the quietness you need while cooking.
Comfort Control: The hood, as well as its lighting, are activated and deactivated automatically, depending on the position of the glass panel. So you don't have to open the kitchen cabinet to operate your hood. Just lift its glass panel.
Intensive speed setting – increases the degree of extraction when the steam in cooking is intense.
LED lighting: sharp lighting on the surface you are cooking on.
Easy Clean: The hood has easy-to-clean surfaces with no visible screws protruding from the outside.
Specifications
Maximum air extraction efficiency: 460 m³/hour
Intensive stage with air extraction: 749 m³/hour
Maximum air recirculation efficiency: 451 m³/h
Performance of intensive recirculation position: 652 m³/h
Hydrodynamic performance: B
Fat retention performance: C
Lighting intensity: 451 lux
Color Temperature: 3500 K
Discreet lighting: 2 x 2 Watt LED lighting
General characteristics
For exhaust or recirculation operation
3 levels of normal operation and 1 intensive
Electronic control: Touch Control – electronic screen
Intensive operation with automatic reset
Soft Light dimming system
The hood and light turn off and on automatically when you open and close the glass panel
Energy efficient Capacity Motor
2 x Metal filters, with aluminum frame, dishwasher safe
Dimensions
Device dimensions (HxWxD): 34×59.7×29.8 cm
Built-in dimensions (HxWxD): 34x56x30 cm