Breackfast, Breakfast Preparation, Breakfast Preparation, Built In, Coffee, Coffee, Coffee Maker, Small Appliance, Small Appliances
NEFF C17KS61G0 N 90 Built-in Fully Automatic Espresso Coffee Machine Graphite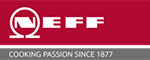 Aroma Double Shot: 

Intense and rich coffee without a bitter aftertaste thanks to two processes of grinding and careful preparation.

 

Home Connect: 

Discover smart home devices and make your life truly easier.

 

Internal Smart Heater: 

The advanced Senso Flow system guarantees the right temperature and the best and richest aroma of your favorite coffee.

My Coffee – Save your 8 favorite drinks by name and make them, simply and at the push of a button.

 

OneTouch Double Cup: 

Your favorite drinks with coffee and milk are prepared very easily and quickly, just with the touch of a button. Even two cups at the same time if you want.
Specifications
TFT display with interactive menu
Water pump with 19 bar pressure
Innovative heating system SensoFlow System
AromaDouble Shot: Extra-strong coffee with less bitterness thanks to two grinding and brewing processes
Steam blast: A fully-automatic steam cleaning after every beverage takes complete care of the daily cleaning of the milk system
SensoFlow quickly heats water to the precise temperature required for perfect flavour every time, using the exact amount of water required
Cappuccino: Any coffee or milk speciality at the touch of a button – even two cups at the same time
MyCoffee: Save 8 favourite beverages with all their settings under personal names
Beverage temperature adjustable individually: Coffee: 3 grades, Hot water: 4 grades
Home Connect app allows you to access the appliance from anywhere
Removable 2.4 litre water tank
Early warning when bean container or water tank are close to empty
Fully automatic descaling & cleaning programme
Display of remaining cups before Decalcification, Cleaning, Change of water filter
Child lock: prevents unintended use of machine