Built In, Built-in Cooking, Cooker Hoods
Neff I98WMM1S7 Bench hood 90 cm clear glass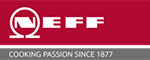 Installation type: Built-in
Width (cm): 90
Device color: Black
Sound power at max. speed (2010/30 / EC): 62
Maximum air exhaust efficiency (m3 / h): 519
Intensive stage with air extraction (m³ / h): 833
Mode of operation: Convertible
Home Connect: Yes
€2.385,00

The glass hood is only there when you need it, to quietly remove all the fumes and odors that are created in your kitchen when you cook.
Guided Air Technology: Air guidance technology for equally powerful and uniform absorption of water vapor and all odors during cooking, regardless of where the utensils are on the stove.
Illuminated Glass Surface: It has 16.7 million colors to choose your own lighting in your home.
High absorption rate: Provides a clean atmosphere thanks to the efficient technology of the engine in extraction or recycling mode.
Cook Connect: easy and comfortable operation of the hood through your hob (hob must be combined)
Efficient Drive: the new motor technology makes cooking very quiet and energy efficient
Technical Specifications
For operation with air extraction or recycling
Electronic control via Touch Control
3 stages of normal operation and 2 intensive
Automatic extension for 10 minutes
Ambient Light
2 x metal filters, with aluminum frame that is dishwasher safe
Efficient Drive motor with BLDC technology, for maximum efficiency and energy savings
Absorption capacity in the extraction mode EN 61591 ø 150mm:
Maximum degree of normal operation 519 m³ / h
Intensive 833 m³ / h
Noise levels min./max. normal operation: 41/62 dB (According to European Directive 65/2014)
Remote access and operation of the device via a smart application on your smartphone or tablet (only for countries where Home Connect service is available)
Intermittent operation: available through the Home Connect application
Silent operation: available through the Home Connect application
Home Connect can be extended by integrating numerous applications from external partners
Voice Control is enabled via popular smart assistants (only in countries where this service is available)
Cook Connect: Hood control via hob
(with hob combined)
Absorption capacity in the extraction mode according to EN 61591 ø 150 mm:
Maximum degree of normal operation 519 m³ / h, Intensive 833 m³ / h
Energy class: A, on a scale of energy classes from A +++ to D
Average annual energy consumption: 37.8 kWh / year *
Fluid dynamics: A *
Lighting efficiency: – *
Fat retention efficiency: C *
Total power: 300 W
Connection cable with 1.3 m plug
Tube diameter Ø 150 mm
Device dimensions (HxWxD): 709 x 918 x 140 mm
Built-in dimensions (HxWxD): 703 x 854 x 123 mm
General Characteristics
Width (cm) 90
Depth (mm) 140
Installation type Built-in
How It Works Convertible
Maximum air recirculation efficiency (m3 / h) 472
Type of settings control touch control
Standby power consumption / off screen 0.4
Connectivity
Home Connect
Home Connect Features Remote access and operation
Connectivity type Wi-Fi
Type
Air outlet pipe diameter (mm) 150
Side color Black
Grease filter material Inox suitable for dishwasher
Filters for fats Multi-layer cassette
Installation type Built-in
Hose material Glass
Motor position Integrated motor in hood body
Motor number 1
How It Works Convertible
Connection Specifications
Rated power (W) 300
Power supply cable length (cm) 130
Frequency (Hz) 60; 50
Total power of motors (W) 300
Voltage (V) 220-240