Built In, Built-in Cooking, Compact Ovens
NEFF B57CR22G0 N 70 Built-in oven 60 x 60 cm Graphite Gray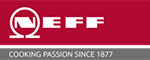 Slide & Hide® built-in oven – unlimited access to the inside of the oven thanks to the door that disappears under the oven and the rotating handle.
 

Slide & Hide® – The door disappears under the oven for unlimited access and the handle rotates for easy handling.

 

CircoTherm® – the smart hot air system for simultaneous cooking and cooking up to 4 levels.

 

Pyrolytic self-cleaning with Easy Clean – the duo for perfect cleaning: 

cracking after heavy use and Easy Clean for use in between.

 

Shift Control – fast menu navigation and simple operation with the TFT screen.
€1.099,00

Oven Type/Heating Systems
Oven with 12 modes of operation:




CircoTherm®, Eco Hot Air, Up & down heating, Up and down heating ECO, Combination of hot air with grill, Large surface grill, Low surface grill, Pizza step, Bread baking step, Bottom oven baking, Step for puffing dough

Temperature range 40 ° C – 275 ° C
Design
Graphite Gray

Illuminated Shift Control

Internal surface of the oven: Enamel anthracite
Comfort
Pyrolytic self-cleaning system of the oven

Slide® folding door handle

Hide® folding oven door, with vibration damping mechanism

2.5 "-TFT- color screen with graphics and touch keys

Recommended temperature




Current temperature display




Visual temperature control

Easy Clean cleaning system

Easy Clock electronic watch

Automatic rapid heating

Crystal inner surface of the door
Sides/Support Rails
Support rails, telescopic mechanism optional

Shallow enamel pan, Combination grill, General purpose pan
Environment & SSafety
Maximum door glass temperature 30 ° C

Low temperature on the door during pyrolysis cleaning

Automatic door lock when cracked




Child safety lock




Automatic oven safety shut-off




Remaining heat




indicator On / Off button ON / OFF
Characteristics
Length of connection cable: 120 cm

Total power: Total electrical connection load: 3.6 kW

Device dimensions (HxWxD): 595 mm x 596 mm x 548 mm

Built-in dimensions (HxWxD): 585 mm – 595 mm x 560 mm – 568 mm x 550 mm

Energy class (EU 65/2014): A + on a scale of energy classes from A +++ to D




Useful chamber volume: 71 lt

"Please consult the wall dimensions provided in the installation plan"