Built In, Built-in Cooking, Ovens
NEFF B48FT68G0 N 90 Built-in Oven with Steam Function 60 x 60 cm Graphite-Grey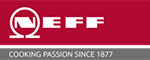 Slide&Hide®: 

the oven door with a rotating handle that completely disappears.
 

CircoTherm®: 

smart hot air solution that allows you to cook on up to four levels at the same time.
 Sous-vide – prepares dishes under vacuum with steam at a constant low temperature for a new flavor horizon.
 NEFFLight® – lighting on all 4 levels of the oven, even when the door is closed.
 Eco Clean with Easy Clean – the duo that makes cleaning the oven easier.
€2.545,00

Oven Type/Heating Systems
Oven with 13 modes of operation: CircoTherm®, Eco Hot Air, Up & down heating, Up and down heating ECO, Combination of hot air with grill, Large surface grill, Small surface grill, Pizza stage, Bread baking stage, Bottom, Baking, Preheating, Heat retention
Additional steam modes: Steam cooking stage (100%), Reheating, Dough puffing stage, Defrosting, Sous-vide function
Temperature range 40 ° C – 250 ° C
Design
Graphite Gray
Touch Control
Inner oven surface: Anthracite enamel
Comfort
Slide® folding door handle
Hide® folding oven door, with vibration damping mechanism
NeffLight®, LED lighting, on / off switch
Home Connect
5.7 "- TFT color touch screen with graphics
Recommended temperature
Current temperature display
Visual temperature control
Additional functions:
Bleaching function
Automatic boiling point detection
Drying function
Self-cleaning surface Eco Clean: Rear
Easy Clean cleaning system
Auxiliary systems: Settings suggestions, Programs
38 automatic programs
Multi-point roast thermometer
Easy Clock electronic watch
Automatic rapid heating
Crystal inner surface of the door
Detachable 1 liter water tank
Water tank level indicator
Sides/Support Rails
Telescopic mechanism, flexible Vario Clou 1 level, Fully expandable telescopic mechanism Clip-on rail, with stop function
Shallow enamel pan, Steam pot, with holes, size S, Steam pot, with holes, size XL, Steam pot, without holes, size S, grill, sponge, General purpose pan
Environment and Safety
Low door glass temperature
Child safety lock
Automatic oven safety shut-off
Residual heat
display ON / OFF on / off button
Characteristics
Length of connection cable: 120 cm
Total power: Total electrical connection load: 3.6 kW
Device dimensions (HxWxD): 595 mm x 596 mm x 548 mm
Wall dimensions (HxWxD): 585 mm – 595 mm x 560 mm – 568 mm x 550 mm
Energy class (EU 65/2014): A + on a scale of energy classes from A +++ to D
Useful chamber volume: 71 lt
"Please consult the wall dimensions provided in the installation plan"
In case of device combination, we suggest you to select devices from the N90 series, in order to ensure the optimal combination between them.
| | |
| --- | --- |
| Energy Label | Class A+ |
| Colors | Dark Graphite |
| Oven Capacity | 70-79 Liters |
| Oven Type | Compact |
| Steam Oven | Yes |
| Self Cleaning Oven | Yes |