Built In, Built-in Cooking, Ovens
NEFF B47CR22G0 No. 70 Built-in Oven 60 x 60 cm Graphite-Grey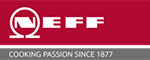 Slide&Hide®: 

the oven door with a rotating handle that completely disappears.
 

CircoTherm®: 

smart hot air solution that allows you to cook on up to four levels at the same time.
 Eco Clean with Easy Clean – the duo that makes cleaning the oven easier.
 Shift Control – fast menu navigation and simple operation with the TFT screen.
€1.149,00

Oven type and type of heating:
Oven with 12 heating
types : CircoTherm®, CircoTherm® gentle, top / bottom heat, top / bottom heat gentle, thermal grill, large area grill, small area grill, pizza setting, bread baking setting 180 ° C – 220 ° C, bottom heat, slow cooking, proofing setting
Temperature control from 40 ° C – 275 ° C
Cooking space volume: 71 l
Accessory carrier / pull-out system:
Shelf levels: 4
Extension can be retrofitted
Design:
Graphite-Gray Edition
Tipper illuminated
Anthracite enamel
Cleaning:
Ecoclean equipment: rear wall
EasyClean® cleaning aid
Full glass inner door
Comfort:
2.5 "TFT color and text display with shift control
EasyClock
Optical heating control,
electronic setting recommendation,
actual temperature control
HIDE®, the fully retractable oven door, dampened drawer
SLIDE®, the rotating door handle
Rapid heating
Oven lighting can be switched off, halogen light
Cooling fan
Stainless steel fan wheel
Equipment:
1 x enamelled baking tray, 1 x combination rack, 1 x universal pan
Environment and security:
Very low window temperature max. 40 ° C
Individually adjustable child
safety device Automatic safety
switch-off
Residual heat indicator Start button Door
contact switch
Technical info:
Length of the connection cable: 120 cm
Nominal voltage: 220 – 240 V.
Total connected load electrical: 3.6 kW
Energy efficiency class (according to EU No. 65/2014): A + (on an energy efficiency class scale from A +++ to D)
Energy consumption per cycle in conventional mode: 0.87 kWh
Energy consumption per cycle in convection mode: 0.69 kWh
Number of cooking chambers: 1
Heat source: electric
interior volume: 71 l
Dimensions:
Device dimensions (HxWxD): 595 x 596 x 548 mm
Recess dimensions (HxWxD): 595 mm x 560 mm x 550 mm
"Observe the dimensions and installation instructions for this device according to the technical drawing"
We recommend that you choose complementary products within the N70 product series in order to guarantee the best possible installation situation for your built-in devices.