Built In, Built-in Cooking, Ovens
NEFF B45CR22N0 No. 70 Built-in oven 60 x 60 cm Stainless steel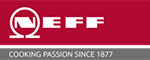 Slide&Hide®: 

the oven door with a rotating handle that completely disappears.

 

CircoTherm®: 

smart hot air solution that allows you to cook on up to four levels at the same time.
 Eco Clean with Easy Clean – the duo that makes cleaning the oven easier.
 Shift Control – fast menu navigation and simple operation with the TFT screen.
€1.009,00

General Characteristics
Device typeCounter top
Combination of hearthsAutonomous
Capacity71 Lt
ColourInox
Programs & Functions
Modes of operation12
Multi-level cookingIt has
Grill functionIt has
Steam functionLacks
Cooling fanIt has
Catalytic wallsIt has
HydrolysisIt has
PyrolysisLacks
Automatic oven stopIt has
Security lockIt has
In additionSlide & Hide / CircoTherm / Easy Clean
Indications & Handling
Electronic display screenIt has
Touch screenIt has
Electronic programmerIt has
ClockIt has
Residual heat indicatorIt has
Interior lightingIt has
SwitchesTouch
Equipment & Accessories
Telescopic mechanismOptional equipment
Detachable door glassLacks
Included accessories1 universal pan / 1 combination grill / 1 shallow enameled pan
Smart Functions
Performance
Dimensions & Weight
Dimensions (H x W x D)59.50cm x 59.60cm x 54.80cm
Built-in (H × W × D)58.50cm x 56cm x 55cm
Weight36,300 kg