Built In, Built-in Cooking, Compact Ovens
NEFF B3ACE4AN0 N 50 Built-in oven 60 x 60 cm Stainless steel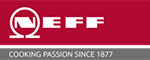 Built-in oven with Hide® – unlimited access to the inside of the oven thanks to the door that disappears under the oven.
 

Hide®: 

the oven door that folds.
 

CircoTherm®: 

smart hot air solution that allows you to bake up to three levels at the same time.
 Eco Clean with Easy Clean – the duo that makes cleaning the oven easier.
LCD screen – simple, straightforward with large characters for easy reading.
Oven Ty[e/Heating Systems
Oven with 7 modes of operation:
CircoTherm®, Top & bottom heating, Combination of hot air with grill, Large surface grill, Pizza step, Low heating, CircoTherm® / soft baking
Temperature range 50 ° C – 275 ° C
Design
Control elements: Rotary control
Oven inner surface: Gray enamel
Comfort
Hide® folding oven door
Self-cleaning surface Eco Clean: Rear
Easy Clean cleaning system
LCD screen
Easy Clock electronic watch
Rapid heating
Crystal inner surface of the door
New door handle design
Sides/Support Rails
Support rails, telescopic mechanism optional
Shallow enamel pan, Combination grill, General purpose pan
Environment & Safety
Low door glass temperature
Mechanical door
lock Security lock for children
Characteristics
Length of connection cable: 120 cm
Total power: Total electrical connection load: 3.4 kW
Device dimensions (HxWxD): 595 mm x 594 mm x 548 mm
Built-in dimensions (HxWxD): 585 mm – 595 mm x 560 mm – 568 mm x 550 mm
Energy class (EU 65/2014): A on a scale of energy classes from A +++ to D
Useful chamber volume: 71 lt