Built In, Built-in Cooking, Ovens
Neff B1AVH2AN1 Built-in oven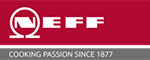 Capacity: 71ltrs
9 Cooking functions
CircoTherm® – the premier hot air system
EasyClean®
Colour: Inox
€990,00
EU New energy efficiency label:

On a scale of energy classes from A to G
European characteristics sheet
Built-in oven with Added Steam – a gentle touch is enough to add steam.
? CircoTherm® – our smart hot-air solution for simultaneous baking and roasting on up to three levels
? EasyClean -this special cleaning aid provides fast, uncomplicated, energy-saving cleaning of the oven interior
?Automatic programmes – Your kitchen helper with just the right default settings.
? Added Steam – a simple push for the right amount of steam to make your food juicy on the inside and crispy on the outside
? LCD-Display – simple, straightforward with large characters for clear reading
See more below.
Built-in Multifunction Oven, Capacity: 71ltrs, 9 Functions, Energy Class: A, CircoTherm
Built-in Multifunction oven, 60cm wide
Capacity: 71ltrs
Can be combined with autonomous hobs,gas hobs and / or Combisets
Energy Class: A
7 functions : CircoTherm, Top & bottom heating, Grill great surface, Bottom heating, defrosting Tier
Temperature Range 50 °C – 275 °C
CircoTherm® – the premier hot air system Neff for simultaneous baking and cooking up to 3 levels
Digital clock EasyClock – Alarm – On – Off
EasyClean®
Oven interior lighting halogen
Triple glass door
Dimensions (H / W / B): 595 x 594 x 548 mm