Breakfast Preparation, Kettles, Small Appliances
BOSCH TWK7S05 Kettle 1.7L Graphite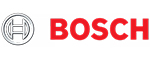 Easy to read water level.
 

Triple safety: 

automatic shut-off when the water boils, if you remove the kettle from the base and overheating protection
 One-handed operation and lid opening at the touch of a button
 Covered heating element – easy cleaning and longer life.
 

Limescale filter in mouth: 

removable filter for easy cleaning – retains limescale.
Technical Characteristics
External water level indicator
Ability to rotate the base 360° C
Concealed stainless steel heating element
Removable limescale filter
Illuminated on-off switch
General characteristics
Automatic shutdown when water boils
The kettle switches off automatically when detached from its base
Large opening for easy cleaning
Non-slip feet on the base