Built In, Built-in Cooking, Hobs
BOSCH PUE611BB5E Series 4 Induction Hobs 60 cm Black, built-in frameless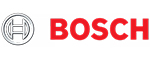 TouchSelect: 

Selection of the desired cooking zone and easy setting of the desired power level.
 

PowerBoost: 

up to 50% more power for faster heating on your induction hobs.
 If something goes wrong during cooking, such as food spilling over, the hobs automatically switch off, saving your last settings.
Timer with switch-off function: switches off the selected cooking zone after the operating time you have set.
Child safety lock: locks the controller to prevent accidental changes to settings.
Specifications
TouchSelect: Selection of the desired cooking zone and easy setting of the desired power level
Induction: Fast, precise cooking, easy cleaning and low energy consumption
PowerBoost: Up to 50% more power for faster heating.
Timer with switch-off function: Turns off the assigned cooking zone after the set time
4 induction cooking zones
Timer with switch-off function for all zones
Operation QuickStart
Operation ReStart
Childproof lock
Dimensions (W / D): 592 x 522mm