Built In, Built-in Cooking, Cooker Hoods
BOSCH DWB64BC50 Series 2 Chimney Hood 60 cm STAINLESS STEEL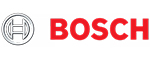 Silent: maximum absorbency with minimal noise.
LED lighting: The energy-efficient lighting provides white and good lighting for the hearth area.
Large extraction capability as a result of which you ensure fast and optimal kitchen air quality.
 Metal grease filters, to filter grease and other solid particles from the air being sucked in.
Technical Characteristics
Energy Class: D

Maximum Performance: 365 m³/h

Noise Level: 63 dB

Total Power: 100 Watts

Hydrodynamic efficiency: E

Lighting performance: A

Fat retention performance: C

Light intensity: 99 lux
General characteristics
For exhaust or recirculation operation

Power Levels: 3

LED light 2 x 1.5 Watt
Dimensions
Pipe diameter Ø: 150 mm

Dimensions in extraction mode: 635-965x600x500 mm

Dimensions in recycling mode: 703x600x500 mm