Description
Technical specifications
Performance
Effective cleaning: AllFloor Power brush and DigitalSpin Motor allow you to clean on all surfaces.
Dual operation: two batteries included
2.5Ah Battery Life
Up to 30 'in Normal Mode
Up to 25' in Normal Mode
Up to 8 'in Turbo Mode
Power for ALL System: the battery is part of Bosch's 18V wireless system and applies to all cooking and garden tools (green line).
Made in Germany: high standards and in-depth control for customer satisfaction over time.
Healthy
Quality materials for a lifetime: Cartridge filter with PureAir membrane and hygienic filter for completely clean air re-emission.
Easy cleaning: a healthy way to empty the bin. The filters do not need washing.
Comfort
More compact design: comfortable and easy to handle for flexible cleaning thanks to its compact design and light weight broom.
Cleaning at all levels: numerous floor and ceiling cleaning accessories, even in the car.
Easy storage: a storage station for the device and its accessories.
Bucket capacity: 0.3 l
2 in 1 brush for furniture & sole for upholstery
Small tip for recesses
Dimensions – Weights
Depth (mm) 265 mm
Product Height (mm) 1.220 mm
Measured weight, ready for op. 2,3 kg
Device Width (mm) 200 mm
Warranty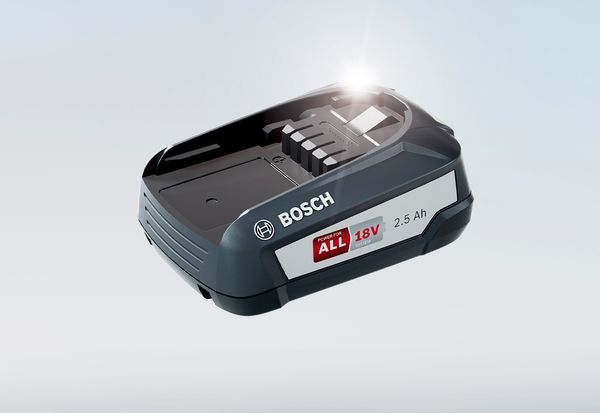 Like all Lithium-ion batteries, Power For ALL batteries are subject to physical wear and tear. Therefore, the capacity of the batteries and subsequently their service life decreases with time. This is a natural consequence of wear and tear on batteries and is not a result of defective product or problem with its production.